5 Things to Absolutely Do in Ronda!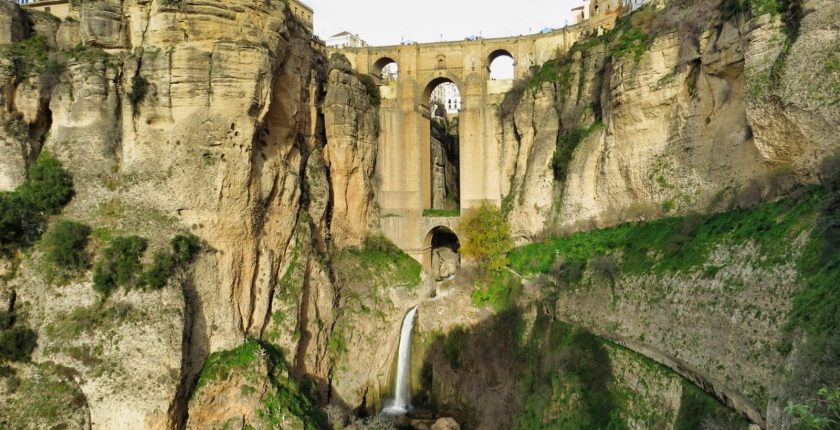 Ronda is one of the most visited cities in Andalusia. It is located in the heart of the Andalusia, about 100km from Malaga, Seville and Granada.
This city is ideal for immersing yourself in Spanish culture. Firstly, in order to understand all of Spanish accents, you must first master that of Andalusia. Not only this, but also because this quiet and welcoming village is full of cultural wealth and scenery that will leave you speechless. If you are still hesitating as to whether or not to choose Ronda as a destination, either for tourism or your Spanish, let us introduce to you five great things to do here in Ronda!
Hiking
There are three natural parks that surround the city of Ronda. In addition to this, the city is located on two plateaux that meet thanks to the New Bridge (Puente Nuevo). This bridge is definitely the biggest and most impressive landmark in Ronda. It is so highly photographed that every year more than 200 cameras are found at the bottom of the gorge!
The three natural parks of Ronda offer breathtaking views of vineyards, olive groves and almond trees, etc. Whether for running or enjoying the fresh air, these are great to explore. The highlight is the Valle del Tajo hike, which offers one of the best views of the new city of Ronda, the famous Puente Nuevo and the ancient city, with its mixture of Roman and Arabic styles.
Museums
Due to the fact that Ronda has experienced the invasion of several peoples, its cultural wealth should definitely be noted. The various museums present a wealth of information about Andalusian and Spanish culture and are at the center of a surprising setting with its magnificent, typical and unique landscapes. A museum not to be missed is the Palacio Mondragón. This museum is found in a house dating back to the 14th century. A guided tour through time is offered in which you can to go back to the very beginnings of Ronda. Guests can also enjoy Arabic-style gardens and fountains, as well as balconies that offer a view of the western part of the city.
Eat local
How do you talk about Spanish culture without addressing its good food? In Ronda, as organic farming is an integral part of the way of life, there is a wide range of fresh fruits and vegetables at your disposal; so they're not only local but they are especially tasty. In addition, we are lucky to be able to enjoy all aspects of the Andalusian way of life. There is a wide range of restaurants, ranging from the typical tapas bar to gourmet restaurantes, so you will easily find something for you in Ronda.
For example, if you want to enjoy a cheap Spanish breakfast, such as a natural orange juice accompanied by coffee and a slice of ham, tomatoes and olive oil, Bar Sanchez is the place you are looking for. It is located in the old city, in the heart of the Arab walls. Above all, an authentic tapas bar not to be missed is Lechuguita. As it is centrally located in a street where people drink, you can enjoy an experience in the heart of the local community. To top it off, it is the cheapest of all the tapas bars in Ronda: all tapas are 0.90 €!
Enjoy your meal!
Wine Tasting
If you are fond of good wines, you will be pleasantly surprised by the potential of Ronda! The microclimate of Ronda offers an optimal environment for growing vines. As we know, organic farming is prominent in this community, we also know that we have access to organic wines of excellent quality. Among the organic cellars that can be visited in Ronda, there is La Bodega F. Schatz. It offers trips into its cellar and a wine tasting experience of six different wines, from organically farms or the Bodega Descalzos Viejos. The Bodega Descalzos Viejos is interesting because it is located in a former convent, dating from the sixteenth century. The renovation of the convent chapel has converted it into a wine processing room where barrels are used for storing wine. The contrast created between the antiquity of the walls of the "church" and the size of the barrels stored on site gives a magical impression.
The tasting includes a visit to the cellar itself and a wine tasting; but the icing on the cake is the visit of the estate's gardens which offers an absolutely incredible view.
Ronda Tour
The Ronda tour is definitely one of the five things to do in Ronda. The official guide of Entrelenguas can give this tour in Spanish, in French or in English so that you can take advantage of all things to see and know about Ronda, in good time. Thus, you can learn about the local culture and the vestiges of Arab and Roman culture, omnipresent in Ronda, even today.
To conclude, now that you have a clearer idea of Ronda and because you know that it's a great place to learn Spanish, why not go full immersion?
The Entrelenguas Cultural Center offers not only Ronda Tours, but also extensive and intensive courses of Spanish adapted to all levels. In addition, you can not only practice your Spanish with students and teachers within the school but also during the cultural activities (hiking, concerts, theater, cinema sessions) that are offered . Finally, if you are looking to live with a Spanish family in order to see your ability improve even more, Entrelenguas has a large address book to find a family that suits you!
We have negociated a couple of advantages with this school for our students, for more information please Contact Us or visit the Entrelenguas school page on our website.
Need an accommodation in Ronda?